This weekend was wonderful. I feel like we are settling into our new home. Friday night was low key. The hubs had some mandatory bonding night with the guys from his work (I love the community they have...rare in the work world.) So while he was doing that, I indulged in one of my favorite guiltiest pleasures....watching my fave HGTV shows recorded on our dvr. I just love HGTV. I'm a little obsessed. James says that home decorating shows are my "sports," and he is right. My personal favorites are Secrets of a Stylist, Home by Novagratz, Dear Genevieve, and House Hunters International, just to name a few.
ahhh...Emily Henderson. If you are by chance reading this, I love you. You are just so cute and and amazing and would you please come style our house, my wardrobe, my life? That would be awesome. oh and we don't really have any money, so could you get HGTV to pay for all of that? Thanks.
probably your biggest fan,

Kristina
Saturday was chore day. We spent the morning and early afternoon organizing our storage shed, making our solarium live-able, and spray painting things. After all that, we took ourselves out to dinner on a family date, and got some seafood(yum!) near the water. We then took a stroll on the beach, holding hands, feeling that delicious breeze, and watching the sun go down.
Sunday morning we continued our church search. The service was like a breath of fresh air and I cried the whole time (in a good way.) So I'm pretty sure we found our church home. Looking for a church is tedious and I was really praying we would find a good fit soon, and I think we did! After church, we went to lunch with a couple that is friend's with one of my friend's from Charlotte. Friends of friends are always such a blessing when moving to a new place. I'll take any connection I can get!
We got home and all took the requisite Sunday Nap. oh glory, I do love a good Sunday Nap.
After naps, we packed our dinner, and spent the late afternoon/early evening at the beach. It's my favorite time to go the beach. It's not crowded or as hot, the sun doesn't make you as squinty, and right around 6:30/7:00 you get the perfect light for photos. At some point, some people noticed a dark blob in the water, really close to shore. Everybody thought it was this:
The coloring looked like a manatee, and it was huge, and there was no shark/dolphin fin. Surely it must be a manatee. Wait do manatee's just swim around in the open ocean? I didn't really take time to think about a manatee's typical environment. I just knew A) it wasn't a shark and B) everybody was saying it was a manatee. (I really don't have much of a fear of the ocean.)
So of course, I jumped in and tried to get as close as possible, because who wouldn't want to swim with a manatee? Right?
I got closer and closer and it would appear with every rising of a wave. Hmm....it looks kinda flat. Hmm.....those fins look big. hmmm....why are they curling up at the ends like that? Hmm....it looks kinda like a sting ray. Do sting rays get that big?
Despite all my "hmm's" I got within 10-15 feet of the thing. Then we all realized, that thing was not a manatee. It was this: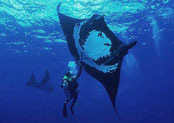 Oh you know, just a
giant manta ray
! eeek! Too close for comfort in my opinion. Luckily it was more scared of me then I was of it, and quickly flapped away out of close proximity. So I didn't fulfill my lifelong dream of swimming with a manatee. Instead I swam with a manta ray, which, well, wasn't a dream at all.
So that was my weekend. Swimming with manta rays. What did you do?